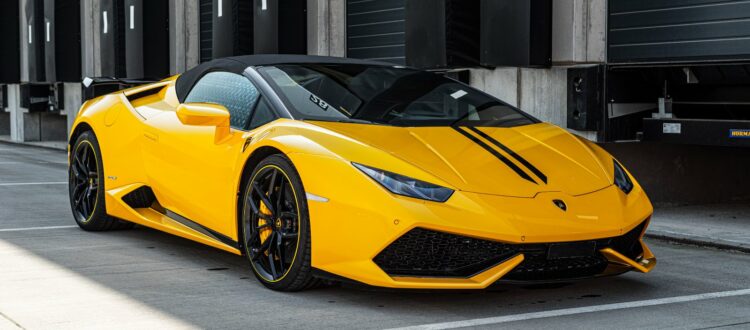 Rent a Lamborghini for a day
Driving a Lamborghini is a lifelong dream for many people. But you don't necessarily have to own a Lamborghini – how about renting a Lamborghini for one day?
Lamborghini – the dream cars from Italy
The Lamborghini company was named after its creator, Ferruccio Lamborghini. He originally founded the brand as a tractor manufacturer. It was not until 1963 that Ferruccio Lamborghini decided to manufacture vehicles, with the fighting bull Murciélago as his trademark.
And to this day, the Lamborghini brand stands for producing powerful supercars that make the heart of every car enthusiast beat faster.
The first Lamborghini produced in series was the 350 GT, a powerful 12-cylinder with a full 280 hp. With the sports car, the Miura (350 hp), the car manufacturer from Sant'Agata Bolognese surpassed its eternal rival Ferrari.
Since 1998 Lamborghini has belonged to Audi AG and offers Lamborghini lovers a wide range of eye-catching models.
The Lamborghini models
The most popular vehicles for Lamborghini rentals are the Lamborghini Huracan, the Lamborghini Aventador and the Lamborghini Urus.
Lamborghini Huracan: The Lamborghini Huracan is the perfect union of design, performance and technology. The Huracan is the perfect sports car and its design reflects that. The sharp-edged, eye-catching design makes the bull look particularly aggressive.
The Lamborghini Huracan has been one of the Italian automaker's most popular models since its release in 2014.
There are different versions of this model, such as the Lamborghini Huracan Spyder, a roadster.
Performance: the Lamborghini Lamborghini Huracan Spyder impresses with an incredible power of 610 hp, a top speed of 324 km/h and an acceleration to 100km/h of 3.4 seconds.
So it is an unforgettable experience to rent a Lamborghini and feel this performance.
Lamborghini Aventador: The king among the Lamborghinis is the Aventador. It is the direct successor of the Murciélago and also named after a famous fighting bull.
Lamborghini's dream car impresses with its self-supporting body and powerful V12 engine, which has been thrilling car fans worldwide since 2011.
There are also different versions of the Aventador, such as the Lamborghini Aventador LP 700-4 Spyder, which is even lighter and therefore even more athletic.
Performance: The standard Aventador has an incredible 700 hp. It accelerates within 2.9 seconds and is governed to a speed of 350 km/h.
The Lamborghini Urus, the world's first super sport utility vehicle, was launched in 2017. The perfect combination of an SUV and a sports car.
Thanks to the use of carbon, Lamborghini's SUV is significantly lighter than its competitors' SUVs and therefore also sportier with its V8 engine.
In terms of design, however, the brand has remained true to itself. Externally, the Urus stands out with an aggressive look with sharp edges.
Performance: The Lamborghini Urus has a powerful 650 hp and accelerates from 0 to 100 km/h in 3.6 seconds. The top speed is 305 km/h.
Why rent a Lamborghini?
Every car fan dreams of once being able to drive in one of Lamborghini's super sports cars. However, buying a Lamborghini is a major investment that is not possible for everyone. Therefore we offer the possibility to rent the Lamborghini of your dreams for one day and pay only a fraction of the purchase price. So really everyone can fulfill their dream.
Extensive driving fun with a Lamborghini
As you can see from the above performance of the individual models, the vehicles of Lamborghini really have it in them. Renting a Lamborghini is an experience you won't be able to forget. But it is also worth renting a Lamborghini for a drive on the race track.
Lamborghini offers you a fantastic driving experience.
How can I rent a Lamborghini?
It is really not difficult to rent a Lamborghini. You can choose one of the offered sports cars on our website and see all the interesting information about the model you are interested in on the page – from the technical specifications to the price. Once you have decided on a vehicle, you can simply send us a request and our team will take care of the details so that you can drive your dream car. No matter where you are, Berlin or any other city in Germany, we will find the right car for you to rent for a day or even longer. And also the return can be arranged flexibly with us.
How long can I rent a Lamborghini?
We offer our cars for different periods of time. This starts with renting for a few hours over a day up to long term renting, that means for a month or longer.
How much does it cost to rent a Lamborghini?
The prices for renting a Lamborghini can vary. The price depends on your preferred model, the rental period and the desired kilometers.
Tip: It is usually cheaper to rent a Lamborghini during the week (Mon-Fri).
Locations: Where can I rent a Lamborghini?
No way is too far for you, even if your desired Lamborghini rental car is not available at your location, we will gladly deliver the respective model to a desired location. Rental start and return can also be arranged individually.
Drivar is generally represented at very many locations, among others in the following cities:
Berlin
Hamburg
Munich
Stuttgart
Dusseldorf
Frankfurt
Cologne
Dortmund
Nuremberg
Bremen
Leipzig
Dresden
Hanover
Magdeburg
Lamborghini rental as a gift
Do you know someone for whom the experience of renting a Lamborghini would be perfect? Our vouchers are an excellent gift for any car lover and we also have vouchers for other sports cars on offer.
Do you have any questions about renting your Lamborghini – Just contact our team and we will be happy to help.